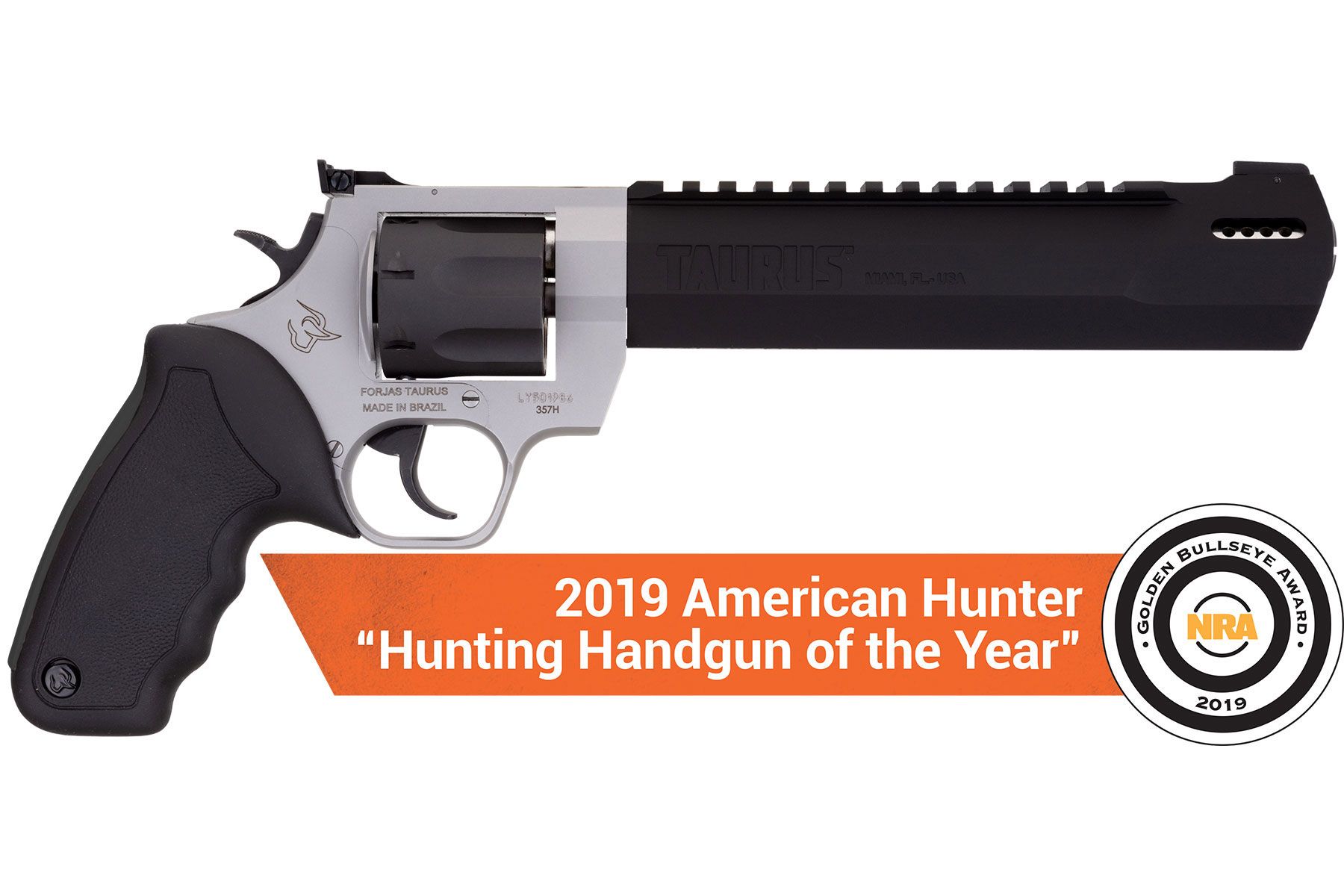 Taurus Announces New Raging Hunter™
With the increasing popularity of handgun hunting, Taurus announces the new Raging Hunter™ into their expansive line of revolvers. The Raging Hunter™ is a .44 Magnum, 6-shot revolver.
The striking stainless and blue two-tone finish of the .44 Magnum Raging Hunter™ is enough to grab the attention of any big-bore aficionado, but the optics-ready Picatinny rail and angular barrel design will seal the deal. It is also available in a matte blue for those seeking a more classic look. The unique barrel system incorporates a steel sleeve that is inserted into an aluminum housing that cuts down on the overall weight, making this a well-balanced hunting sidearm. The exclusive cushioned insert grips on the Raging Series large frame revolvers makes shooting them comfortable and controllable. Also aiding in recoil management is the unique placement of the factory-tuned porting and gas expansion chamber that is designed to disperse gases directionally reducing muzzle lift and delivering quicker target acquisition. This built-to-last revolver is a fun and effective alternative for short to medium range hunting scenarios.
Taurus Raging Hunter™ Specifications:
Caliber: .44 Magnum
Capacity: 6-shot
Action Type: DA/SA
Barrel Length: 8.375"
Weight: 55 oz.
Overall Length: 15.75"
Overal Height: 7.1"
Width: 1.8"
Cylinder: Carbon Steel (Matte Blue Finish)
Finish: Matte Blue or Two Tone
Sights: Fixed Front/adjustable Rear
Firing System: Spurred Hammer
Grip: Soft Rubber with/Cushioned insert
Weight: 55 oz.
MSRP: $919