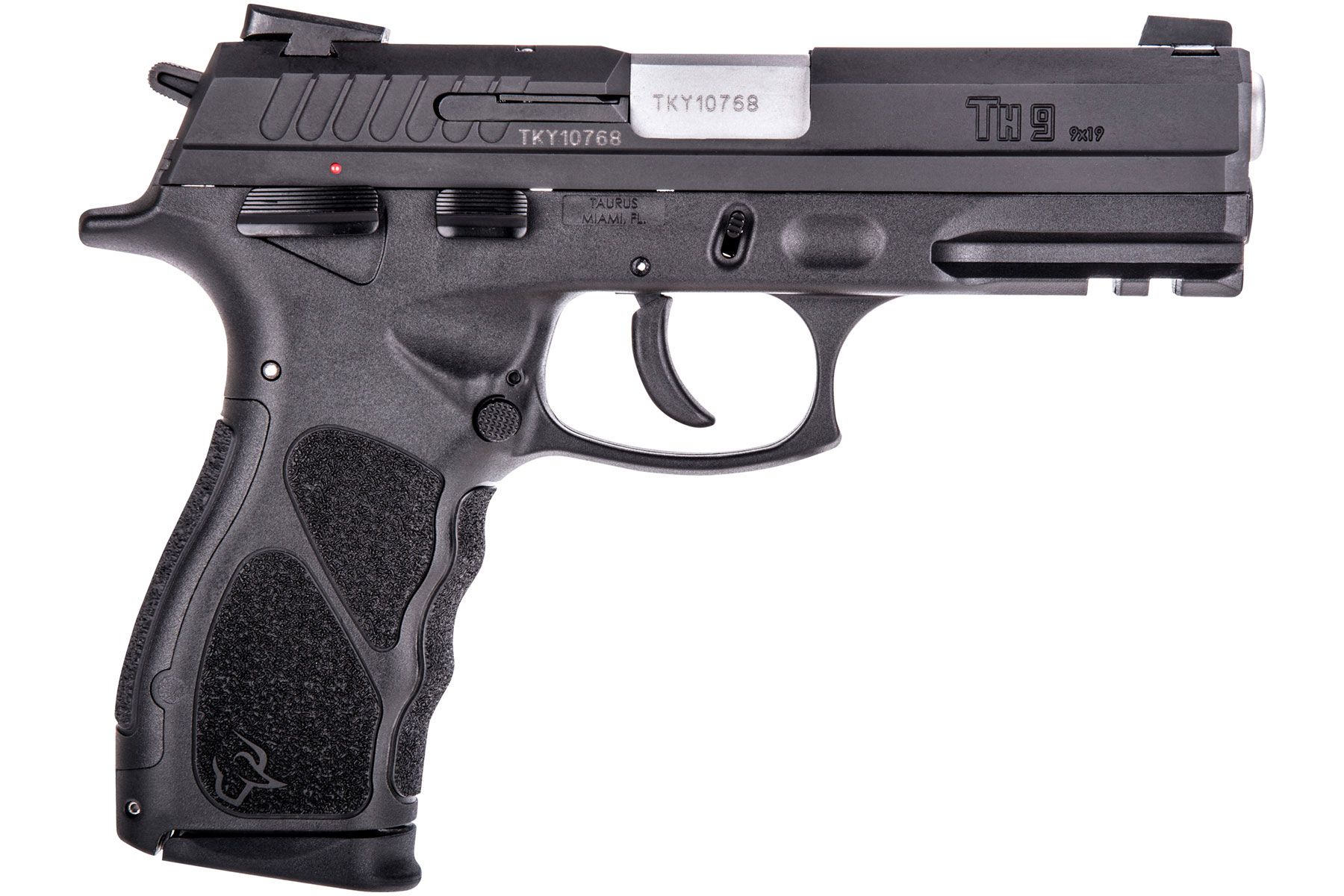 Taurus Introduces the New TH Semi-Auto Pistol Series
External Hammer Pistols are BACK...with the Taurus TH Leading the Charge
Taurus has advanced the iconic external hammer-fire pistol platform with the all-new Taurus® TH-series semi-auto handguns. Count reliability, familiarity, and Taurus-proven engineering among the key attributes of this breakout pistol lineup.
For many dedicated pistol shooters, an external hammer-fire pistol is a must-have in their personal defense and target range repertoire. Taurus has answered that call with the TH pistols. Available in 9mm Luger (TH9) and .40 S&W (TH40) chambers, the TH models are a modernized interpretation of the classical hammer-fired, double-action/single action (SA/DA) auto-loading handgun.
Built on a polymer frame that boasts finger grooves along the grip, generous stipling panels, and interchangeable backstraps (full-size only) for a custom fit, the TH earns high marks for comfort and operational management.
Shooters can choose the full-frame or compact-frame in either the TH9 or TH40. Both feature the SA/DA trigger and hammer-fire design as well as a carbon steel slide with matte black finish. Both come with drift-adjustable Novak front and rear sights. A Mil-STD 1913 Picatinny rail is also present for accepting a tactical light or sighting laser. From there, it's all about picking your flavor—full frame or compact.
The full-frame TH models incorporate an ambidextrous manual safety to accommodate right- or left-hand shooters. This gives the operator several safe-condition options: hammer down/safety on, hammer down/safety off, and hammer back/safety on.
Another ambidextrous feature of the full-size TH is the magazine release. The full-frame TH9 has a 17-round capacity with the TH40 full-frame mag holding 15 rounds. All models ship with two magazines.
For those who want "all the gun" of the full-size TH, but prefer it in a slightly smaller package, the compact TH stands ready. Overall length is nearly an inch less than the full-size model thanks to a tighter frame and shorter 3.45-inch barrel, and overall height is a full inch less—dimensions daily carry advocates will certainly appreciate.
Rounding out the compact model features are an ambidextrous mag release and a manual safety lever on the left side. Cartridge capacity for the compact models runs 13 or 17 rounds (extended magazine) for the TH9 and 11 or 15 rounds (extended magazine) for the TH40. Both TH9 and TH40 compact models ship with one standard and one extended magazine.
Whether you favor the higher capacity and robust grip of a full-frame semi-auto or tend toward a smaller, more concealable platform that has the grit to meet any personal defense situation, the new Taurus TH line of external-hammer, SA/DA action handguns has you covered.
Taurus® TH9 & Taurus® TH40 SPECIFICATIONS
Caliber: 9mm Luger / .40 S&W
Capacity: 2x17 (TH9 full-size); 1x17,1x13 (TH9 compact); 2x15 (TH40 full-size); 1x15, 1x11 (TH40 compact)
Finish: matte black
Grip: polymer
Firing System: hammer
Action Type: single action/double action
Trigger Pull: 12 / 6.5 lbs.
Safety: manual
Sights/Front: Novak Drift Adjustable
Sights/Rear: Novak Drift Adjustable
Slide Material: carbon steel
Slide Finish: matte black
Overall Length: 7.72 in. / 6.85 in.
Overall Width: 1.3 in.
Overall Height: 6.0 in. / 5.0 in.
Barrel Length: 4.27 in. / 3.54 in.
Weight (unloaded): TH9 full-size = 28.2 oz.; TH9 compact = 25 oz.;
TH40 full-size = 27.5 oz.; TH40 compact = 24.7 oz.
Magazines Included: 2 / 2
Accessory Accommodations: Picatinny rail (Mil-STD 1913), interchangeable backstraps (full-size only)
MSRP: $359
To learn more about Taurus TH Series, in 9MM click here, and in 40 S&W here.
About Taurus:
Taurus Holdings, Inc. ("Taurus") and its subsidiaries continues to evolve and produce revolutionary new products. In addition, new standards for quality and efficiency help deliver reliable and affordable guns to the market. Taurus is based in Miami, Florida. Taurus is owned by Taurus Armas, S.A. which is a publicly traded company based in Brazil. Taurus Armas S.A. manufactures a wide variety of consumer and industrial products that are distributed worldwide.